Welcome to the amazing sport of skiboarding! Skiboards are smaller, easy to use from the first day, come in pairs for each foot and can be used with ski bindings or snowboard bindings. These come in sizes of 75cm up to 138cm for adult riders. Super easy to learn quick, turn and stop easily yet ride anywhere on the ski slopes that long skis and snowboards can go.
Originally developed by skaters, these are the perfect crossover tools for any types of skaters to transfer their skills right to the slopes with a very little learning curve. For non-skaters, riding shorter skiboards makes it easy to balance, turn and ride on the mountain also with no lessons or very little. Most people are up and running in one day. AND, it is literally pure fun from day one! Dr. Richard L. Roberts owns and operates two ecommerce websites selling and manufacturing skiboards:
The above ecommerce websites represent one of the niche businesses created by Dr. Roberts. The products, Skiboards, are the means for individuals to breakthrough past conditioning and experience a greater joy in their lives in a very active and fun way. "Pure fun from day one" captures the essence of this new riding sport. This business was pioneered by Doc beginning in 1996.
Learn more about the sport of skiboarding with these two books written by Doc Roberts: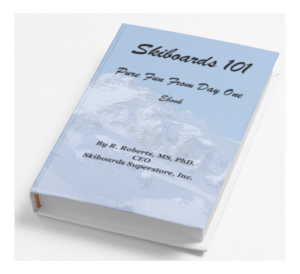 To learn more about skiboards, I offer a Free ebook: Skiboards 101 available for pdf download.
In addition, my book explains in detail the amazing sport of skiboarding. Check out my book here:  Instant Skiing, Instant Fun