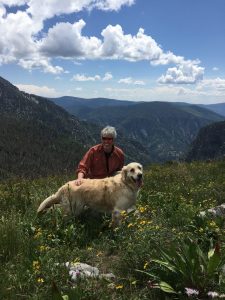 About Dr. Richard L. Roberts – Breakthrough into Brilliance – "Doc" is a Human Potential catalyst and speaker. He's presented his empowering seminars throughout the U.S. in the field of awakening, peak performance, self-actualization and breakthrough psychology.
Education:
Dr. Roberts has a Bachelors Degree in Physiological Psychology from the State University of New York at Stony Brook. He has a Master of Science Degree in Vocational Counseling/Assessment from the State University of New York at Oswego and a Doctoral degree from Columbia Pacific University in Psychology, emphasis Human Potential. In addition, he has extensive training and experience administering numerous career, educational, aptitude and personality/psychological assessments. 
Experience:
Dr. Roberts has personally assisted 10's of 1000's of individuals to discover and fulfill their true divine calling. He offers a rare combination of practical real-world knowledge in career success generating strategies, with an in-depth, intuitive understanding of what it takes for you to reveal your true unique gifts, align with your individual destiny and live to your greatest potential. Dr. Roberts has a natural ability to attune you to your greater possibility in life, understanding your deeper, often unexpressed talents and personal calling. This holistic understanding of the total individual allows him to provide invaluable guidance to you, using the tools on this website that will prove instrumental in you becoming the person your were born to be.
In his extensive career, Dr. Roberts has served as a corporate consultant and workshop leader, creating many custom tailored career development programs for the following organizations:
• Sunstrand Aviation

• Ventura County Government

• Colorado Department of Revenue

• Ericsson Communications

• CalComp

• Northrop

• Off Duty Enterprises

• A.T.& T.

• Security Pacific

• Allstate Insurance

• Chicago Title

• Hughes Aircraft

• Vector Electronics

• BASF

• Warner-Lambert

• Colonial Insurance

• Security Pacific

• Donnelly Marketing

• Small Business Administration

• U.S. Postal Service

• U. S. Department of Education

• Chicago Title

• Chapman University

* Indian Hills Community College

• Boulder Valley Schools

* Fort Lewis College

• University of Colorado – Boulder

* North Orange County Community College District

And more.
He has served as a public speaker on topics ranging from human motivation, peak performance, breakthrough psychology, stress management, meditation, self-actualization psychology, personnel testing/interviewing, human resource development, organizational needs analysis, interpersonal communication, labor market analysis and strategic job search.
The LifeWork Breakthrough Guidebook is the culmination of years of experience in working with thousands of individuals. It has served as a catalyst for thousands of people to break through self-limiting Neuro-Physiological habits and emerge as the person they are truly capable of being.
Dr. Roberts also pioneered The Breakthrough into Brilliance Program that enables you to identify and free yourself from past programming in order to experience personal liberation so you're truly free to express your unique talents and energies and live the life you deserve.  
Additional Experience:
In addition to his work in Breaking people through to the fullest expression of their highest potential, Dr. Roberts is president of the Skiboards Superstore, Inc. (Skiboards.com) an online retail business that represents a unique niche snow riding sport. Skiboards accelerate personal freedom, creativity and joy on the ski slopes. Skiboards are twice the width of skis, half the length and pure fun from the very first day for any ability level, feeling more like skates in terms of balance and maneuverability. Easy to learn, with a super fast learning curve, skiboards provide a true transformational experience allowing individuals to accelerate Neuro-Physiological de-conditioning  of the personality and access to one's Higher Self, accompanied by an overwhelming experience of greater joy and freedom.
The Skiboards Superstore is a business that grew out of Dr. Robert's own personal work with the Breakthrough Principles that resulted in the creation of a unique niche Internet business.  He also now teaches and incorporates many of these same principles of identifying niche markets and how to create a successful online business. 
Summit Skiboards, Inc., is his skiboards manufacturing company with worldwide distribution. This is a green energy manufacturing plant that produces high performance skiboards. These are designed by him with exacting standards to bring the sport of skiboarding to new heights.